PO Box 577
Terrigal NSW 2260
Tel : 02 4384 4466
Email: briancook@theauthorsagent.com.au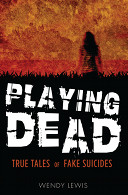 Wendy
Lewis
Wendy Lewis is a prolific writer and has written for stage, screen, television and radio. Her latest book is
Playing Dead: True Tales of Fake Suicides
, from Five Mile Press. Her books range from humour to history, and include:
Events that Shaped Australia (2006)
See Australia and Die (2007)
Caught Out! Scandals, Lies, Cover-ups (2008)
Her writing has attracted a lot of media interest and has been featured on Channel 7's "Morning Show", Sky News' Book Report; Southern Cross/Prime TV's "Insight", Radio National's "Perspective" and ABC Radio "Bush Telegraph".
In 2010, Wendy wrote
Gone: 25 of the world's most chilling and bizarre kidnappings
, published by The Five Mile Press and
Australians of the Year Celebrating 50 Years of Remarkable Achievement
, published by Murdoch Books. Her most recent book, released in December 2011 by Murdoch Books, was
The Australian Book of Family Murders
.
What the critics say:
"…Lewis has managed to enrich the text with interesting snippets … This is a thoughtful book that places each winner in a larger context and helps to explain why certain people were honoured." Bruce Elder, Spectrum, SMH, 5-6 February 2011
&nbsp