PO Box 577
Terrigal NSW 2260
Tel : 02 4384 4466
Email: briancook@theauthorsagent.com.au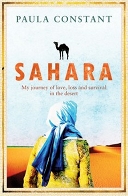 Paula
Constant
Australian adventurer Paula Constant began walking from Trafalgar Square, London, in 2004. Since then, she has walked over 12,000 kilometres, through France, Spain, Portugal, Morocco, and the Western Sahara, Mauritania, Mali and Niger. After her West to East solo crossing of the Sahara was interrupted by political strife in Niger in mid-2007, Paula returned to Australia.
Paula's first book -
Slow Journey South - Walking to Africa
- was published by Random House Australia in 2008. Paula's latest book -
Sahara - A Journey Of Loss, Love and Survival
- telling the story of her her gruelling desert walk, was published by Random House in late 2009.
For more information about her adventures go to
www.constanttrek.com
.
What the critics say:
Slow Journey South
"Australian Paula Constant has written a life-affirming, positive, inspiring and informative narrative of her emotional and physical journey to give up a teaching job in London and walk for three years with her husband - walking out of Trafalgar Square in Central London to France, Spain and along the Camino Santiago pilgrim's walk to Portugal. …Paula's voice is a fresh and compelling one. She writes really well in this genre and is thoroughly inspirational - giving much in the way of personal learnings and insights about life. …This is one of the finest examples of travel literature in a long time!" Melanie Barton, Bookseller & Publisher, February 2008
Sahara
"…The joy of the journey through the desert is evoked with such precision that the reader can almost feel the dust and the heat. …What makes this book so special is that from this pain and elation Constant discovers an essential truth: 'A part of me knows that my love of this place is the love of one who passes through it … I do not want to be one of the nomads with whom I sit and drink tea& #8230; I want to be among them, passing through, seeing the desert in all its guises and formations, drinking tea with every tribe I come across - not just one.' …The journey reveals a courageous and adventurous woman full of self-confidence and self-knowledge." Bruce Elder, Sydney Morning Herald, 5-6 December 2009.
www.constanttrek.com
&nbsp