PO Box 577
Terrigal NSW 2260
Tel : 02 4384 4466
Email: briancook@theauthorsagent.com.au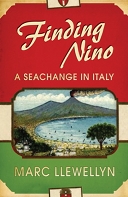 Marc
Llewellyn
A former news and features writer with the Sydney Morning Herald, Marc Llewellyn is one of Australia's best-known travel writers, contributing to many of Australia's most prestigious newspapers and travel magazines, as well as others overseas. He has won several writing awards, including the Kendell Airlines Australian Travel Writer of the Year award and the ASTW Travel Writer of the Year Award. Marc is the current President of the Australian Society of Travel Writers and the continuing author of the
Frommers Guides to Australia
, as well as writing several other guidebooks to Australia and Sydney.
Marc's first book,
Riders to the Midnight Sun
, was published in 2001. His latest book - the highly-praised travelogue
Finding Nino - A Seachange in Italy
was published by Harper Collins in Australia in 2008, and won The Best Travel Book of 2008 Award. The judges commented: "Finding Nino's greatest strength is its blistering, salty honesty. Rather than pull up a chair and marvel at emerald seas, Llewellyn literally gets his hands dirty and gives a refreshing account of how difficult a sea change really is in a foreign country. It has shades of Tim Winton's The Riders but with the authentic voice of a family undergoing turmoil in the real world".
What the critics say:
"…an honest, moving story of how Llewellyn struggles to build a new life. A great read for armchair travellers.", Sun Herald
"… gripping…English-born Llewellyn…writes a good yarn…for lovers of travel books there's plenty of juicy detail.", Sunday Herald Sun
"…wonderful anecdotes pockmark Llewellyn's writing, giving understanding and insight that could only be delivered by an author determined to change.", Newcastle Herald
"A travelogue with a difference, presenting the good, the bad and the reality.", Gold Coast Mail
&nbsp