PO Box 577
Terrigal NSW 2260
Tel : 02 4384 4466
Email: briancook@theauthorsagent.com.au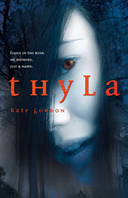 Kate
Gordon
Kate Gordon was raised by two librarian parents, in a small town by the sea in Tasmania. She spent her childhood searching for fossils at Fossil Bluff, wondering about the doctor who rode his horse off the cliff at Doctor's Rocks, and eating the best chips in the world at the fish and chip shop at the wharf. She also spent much of her time dreaming about being a writer, and spent many a lunch hour walking around the playground reciting poetry. The other children thought she was a little bit odd.
After studying performing arts and realising she was a terrible actor, Kate decided to give in to genetics and study to be a librarian herself. She never stopped writing and, in 2009, with the encouragement of a very nice man called Leigh (who is also her husband), she applied for and won a Varuna fellowship, which turned out to be the beginning of her writing career!
The latest book by Kate,
Writing Clementine
is a funny, warm, feel-good novel about friends, family, first kisses and finding your way in the world. Published July 2014 Allen & Unwin Publishers.
Kate's first book,
Three Things About Daisy Blue
- a Young Adult novel about travel, love, self-acceptance and letting go - was published in the Girlfriend series by Allen and Unwin in 2010. Her second book,
Thyla
, was published by Random House Australia in April 2011 and her third book,
Vulpi
, was published in April 2012.
Thyla
and
Vulpi
are paranormal thrillers set in the Tasmanian bush.
Her second novel,
Thyla
, was nominated for a 2012 REAL award, voted on by teenage readers.
Kate frequently conducts author talks, school visits and conference presentations around Tasmania. She writes teacher notes for several major Australian publishers.
Kate is currently an ambassador for the National Year of Reading. She was the recipient of 2011 and 2012 Arts Tasmania Assistance to Individuals grants, which have enabled her to spend more time doing what she loves.
Kate blogs at
www.kategordon.com.au/blog
and you can find more about her and her books at
www.kategordon.com.au
.
&nbsp