PO Box 577
Terrigal NSW 2260
Tel : 02 4384 4466
Email: briancook@theauthorsagent.com.au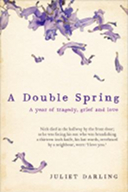 Juliet
Darling
Sydney based highly acclaimed film maker, writer, artist and partner to the late Nick Waterlow, Juliet Darling has wide experience of the film industry having worked extensively in the US and in Australia. In 1997 she wrote, directed and produced the film 'Dead Letters' with Associate Producer, Jane Campion which was nominated for Best Social and Political Documentary at the Banff television awards 1998.
Juliet's writing profile includes articles for Sydney Morning Herald and The Australian, full length screenplays, short films, novels, short stories and poetry. Her poetry book
Elements in a State of Wonder
was published 2012.
A Double Spring
is her first work of non fiction, published in April 2013 by Allen & Unwin.
Powerlessness and grief, families and friendship, fear and trust, anger and love, this is the story of Juliet Darling's year after her partner, esteemed art curator Nick Waterlow, was murdered by his schizophrenic son Antony.
Unfolding with utmost simplicity and stripped of any falsehood, this is a passionate and urgent look at the ordinariness of evil, the intractability of fate, and the interconnectedness of art and life. It is also a book about a family who feels helpless against the threat of violence because Antony's condition was never properly diagnosed. It was Juliet's concern about the legal power of family members when diagnosing mental illness that prompted a forthcoming inquest at the Coroner's Court.
But ultimately, this is a story about the power of love, and how love can be sustained through grief.
A Double Spring
will make you think deeply about love and life in all its incarnations.
&nbsp