PO Box 577
Terrigal NSW 2260
Tel : 02 4384 4466
Email: briancook@theauthorsagent.com.au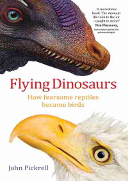 John
Pickrell
John is the Editor of Australian Geographic, one of the nation's most loved and respected magazines, created by Dick Smith in 1986. He is an award-winning journalist and editor and has worked in London, Washington DC and Sydney. Previous roles have been at New Scientist, Science magazine, Science News and Cosmos. John's articles can also be found online and in print at BBC Wildlife Magazine, National Geographic, Scientific American and the ABC. He has been a finalist in the Australian Museum's Eureka prizes - the nation's most important awards for science and environmental journalism - three years in a row, has won an Earth Journalism Award and has featured in an anthology, The Best Australian Science Writing 2011.
Prior to becoming a journalist, John studied biology at Imperial College in London and took an MSc in evolutionary biology and biodiversity at the UK's Natural History Museum. He now gets to indulge his love of the natural world by frequently covering stories in remote parts of Australia, such as an upcoming feature on the mysterious and fascinating tree kangaroos of Queensland and New Guinea. Other stories have seen him trek Tasmania's Overland Track and ride a mountain bike 330km across Western Australia on off-road trails.
Released in June 2014 by NewSouth Books, an imprint of UNSW Press, is John's first book in a series
Flying Dinosaurs
. John's latest book, published in November 2016 by NewSouth Books, is
Weird Dinosaurs
.
Further details can be found at
http://flyingdinosaurs.net
and
https://www.facebook.com/flyingdinosaurs
Catch John's tweets at
https://twitter.com/john_pickrell
&nbsp