PO Box 577
Terrigal NSW 2260
Tel : 02 4384 4466
Email: briancook@theauthorsagent.com.au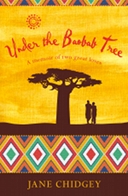 Jane
Chidgey
Seemingly overnight at 50, Melbourne born Jane Chidgey found herself abandoning her comfortable and safe single life riding a tram into her well-paid secretarial position in corporate Melbourne each day, for life with the man of her dreams in the Limpopo Valley in the far north of South Africa, driving an old Land Rover across the veld, tracking cheetahs and coming to grips with the poverty, tragedy and humour of the lives of the local people.
Previously Jane had held secretarial positions in various companies, including three years working in Tokyo for an Australian company in the 1970s and as personal assistant to Hugh Morgan, the Managing Director of Western Mining Corporation, and to Sir Arvi Parbo, the Chairman, in the 1980s. Her last job was as secretary to the Managing Director of Newcrest Mining Limited.
Before going to Africa Jane had always lived alone, save for her dogs and horses. Her hobbies were horse-riding and golf. Now she has given up horse-riding and taken up bird watching and game viewing. Although whenever Jane visits Australia she still manages to fit in a few rounds of golf.
Jane's first book -
Under the Baobab Tree: A Memoir Of Two Great Loves
- will be published by ABC Books in February 2012.
&nbsp