PO Box 577
Terrigal NSW 2260
Tel : 02 4384 4466
Email: briancook@theauthorsagent.com.au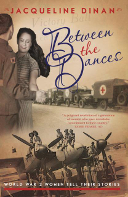 Jacqueline
Dinan
Between the Dances
is a collection of stories about the lives of mostly Australian women at home and at the front during WW2.
As the author of the moving World War I novel
A Woman's War
(1st edition 2009, 3rd edition 2011), Jacqueline's interest in war history has grown into a deep fascination with the stories of heroic and heartening women, especially those battling the odds as occurred to so many during World War II. She spent many hours on travel and interviews with the survivors of that conflict to compile this anthology while living temporarily in Brisbane. 'Home' is Melbourne where she enjoys a family life. Jacqueline grew up in South Gippsland and therefore has an added interest in the rural perspectives of life for women during WW2.
With over a decade of experience in corporate and art communications and events, Jacqueline is tenacious and passionate about her work and fierce promoter of this material targeting a broad genre of media with innovative tactics. She is currently employed in communications at Cherish Women's Cancer Foundation.
Between the Dances
published by Jane Curry Publishing February 2015
&nbsp