PO Box 577
Terrigal NSW 2260
Tel : 02 4384 4466
Email: briancook@theauthorsagent.com.au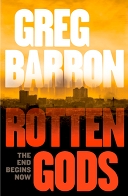 Greg
Barron
Greg was born in the mountain ranges of New South Wales and has lived in Australia, Canada and the Northern Territory. He grew up reading Alistair MacLean, Tom Clancy, Robert Ludlum, Desmond Bagley, Jon Cleary, Wilbur Smith and John Le Carre and dreamed of being a writer from an early age.
He has qualifications in Education and Aquatic Science and has studied Global Terrorism through St Andrew's University, Scotland. He has worked as a librarian, a music teacher, a primary producer, an educator in remote Indigenous communities, and played the guitar semi-professionally.
Greg enjoys music, bushwalking, boating, canoeing, reading and travel, both internationally and in Australia. His writing reflects strong interests in political, social and environmental change. He lives on a small farm in Eastern Australia's coastal hinterland with his wife and two sons.
Greg Barron is contracted to HarperCollins Publishers for three novels, now including
Rotten Gods
, which was released July 2012, and
Savage Tide
released in July 2013.
Greg's latest Marika Hartman story is
Lethal Sky
released in July 2014 and
Voodoo Dawn
, a Marika Hartman e-book published in March 2014.
For updates please follow Greg on Twitter @gregorybarron, visit his Facebook page at
www.facebook.com/gregbarronauthor
or his website at
www.gregbarron.com
.
&nbsp